From Gay News Network Australia:
Author: Garrett Bithell
RuPaul has arguably penetrated the mainstream more than any other drag queen. Ahead of his return to Australia after almost 15 years, he speaks to Garrett Bithell about New York's underground scene, RuPaul's Drag Race, and our fight for equality.
Legendary multi-hyphenate RuPaul Andre Charles was arguably the first ever drag artist to emerge from the upper echelons of the Manhattan underground to penetrate the American zeitgeist when in 1993 he released his debut album, Supermodel of the World. It was especially groundbreaking because America was deep in the throes of grunge, and bands like Nirvana ruled supreme. But here was an African American drag queen from Georgia with a snappy song – 'Supermodel (You Better Work)' – and an affirming, love-everyone message.
"That time was amazing," RuPaul says. "It was a whirlwind. I had been a downtown New York star for many years, and had reached the pinnacle of success in the underground world, and I decided it was time to go for the big time. But I thought I would have to not be in drag.
"Then after months of doing a show – I had a David Bowie, androgynous look – it occurred to me that I needed to change my mind about making the big time in drag. I realised the only blockage to me moving forward was in my own mind, and when I changed my mind, everything else changed."
Indeed it is this notion of personal responsibility and courage that RuPaul believes is key to the current gay rights movement: how can the GLBT community demand equality when it doesn't view itself as equal? Obviously there are concrete legal and social impediments to equality, but when a separatist gay scene is still perceived to be necessary, when people are still in the closet, and when gay couples are still reluctant to express affection in public, we have a long way to go.
"You don't really have to fight for equality, because the fight is inside of you," he asserts. "If gay people want change, the change happens in your own perception of yourself. If you're waiting for someone else to give you acceptance, it's not going work. The biggest changes in the gay community have happened from within each individual."
Moreover, it's high time we stopped pandering to traditional heterosexual norms, or apologising for our eccentricities, in our quest for equality. "There's no disputing that gay people are normal – everything is normal," RuPaul continues. "But the idea that we have to project this image of the status quo? I just don't like it.
"You used to go to the gay clubs to find out what was going to be happening in the mainstream five years from now. But today it seems that gay culture is right in line with popular culture, which is kind of sad."
But RuPaul acknowledges that this is merely a symptom of greater acceptance generally. "Gay people used to have to hide and do a lot of things in secret," he says. "So things would have time to gestate and develop before the masses got to it."
When RuPaul moved to New York from Atlanta, Georgia – where he got his start playing in bands at punk rock clubs – in the early 90s, he found his tribe. "It's different today, but back then everybody mixed in the one club," he remembers. "Uptown people, downtown people, black, white, gay, straight, Latin, men, women – it was this amazing tapestry of cultures and people, and it was mind-blowing.
"Now it's very specialised and it's not as interesting."
Due to the cult success of television shows RuPaul's Drag Race, and spin-off RuPaul's Drag U, RuPaul has taken a break from the nightclub performances that made his career. But, after a two-year hiatus, he is coming to Australia for the first time in almost 15 years – courtesy of Creative Cross in association with Lifestyle You – to reignite his live persona.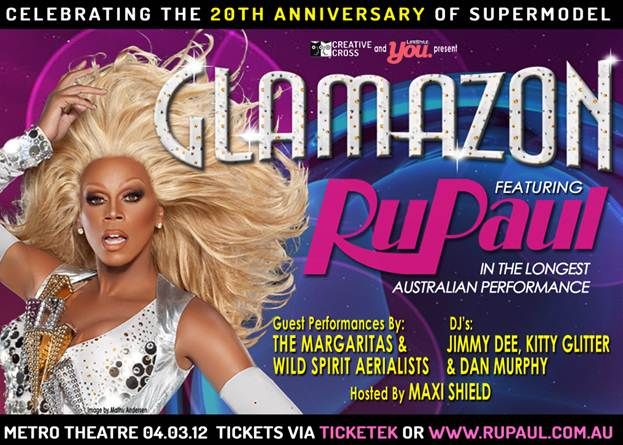 On
Sunday, March 4, RuPaul will headline dance party Glamazon – also the name of his latest album. Held at Metro Theatre in Sydney, Glamazon will feature a high-profile line up including performances by The Margaritas and Wild Spirit Aerialists, and three of Australia's best DJs – Jimmy Dee, Kitty Glitter and Dan Murphy. Hosted by local drag star Maxi Shield, the night, which also marks the 20th anniversary of 'Supermodel (You Better Work), will culminate in a spectacular performance by RuPaul, the longest of her Australian tour.
"I'm quite the Aussie-phile," he says. "I'm surrounded by Australians every day of my life – the man who does my hair, make-up and photographs is Australian, and I was married to an Australian for six years. I'm an Australian by injection!"
Both RuPaul's Drag Race and RuPaul's Drag U are still going strong. "I'm happy the shows have helped bring drag back into pop culture," he muses. "Especially here in America, it had really gone underground. I think people were ashamed of it – in the gay community it had become the step-child nobody wanted to talk about. Especially in gay pride marches, people felt it wasn't the image of the futuristic gay we should project.
"But drag throughout the ages has reminded us not take ourselves too seriously – that the identity you have can be emulated with just a few materials."